Mortgage Blog
Mortgage It Right!
Buying Acreage? How Lenders View Your Mortgage Application.
June 29, 2015 | Posted by: Kelleway Mortgage Architects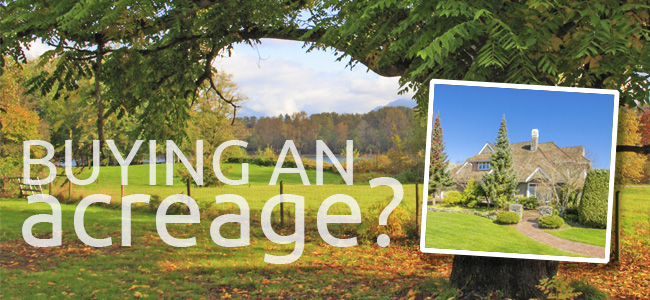 If you are financing acreage as a residential property in order to get residential pricing on money borrowed, consider that lenders will often loan only on the value of the house, a detached or attached garage, and a portion (e.g., 3-10 acres) of the property, even if the total acreage being purchased is much more While other buildings such as barns, workshops and storage sheds are valued and acknowledged in the selling price, lenders will often back out those values when calculating the maximum Loan to Value (LTV) that they will approve.

Therefore, to buy acreage, be forewarned that the amount of equity you will need may be much more than you first expect. This is due to the gap between the purchase price and the maximum mortgage amount a lender will allow. For example, a property may sell for $500,000 but the lender will only consider $400,000 to loan on (after deducting the value of other buildings and additional acreage). At 75% LTV, the maximum mortgage is only $300,000. The remaining $200,000 is needed from the buyer's own resources (e.g., saved or gifted down payment ) to complete the purchase.

Have no fear though, if you decide to buy acreage, we can present you with a choice of lenders and explain your mortgage options.

What's the Next Step for You?
1) Keep us in mind and on hand in case anyone you know runs into the same sort of situaltion.
2) Share this post with your friends and family because you never know when the info could come in handy.
3) Call or Email Us just to connect and get started talking about your plans. (see below)
4) Sign Up for Glen's Perspective newsletter > Click here
Glen Kelleway, BSc, AMP, Senior Mortgage Planner & Owner
If you would like us to contact you by phone or email, please click Contact Us Kelleway Mortgage Architects will get back to you within one business day.

Phone: 604-476-0053
Toll Free within North America: 1-866-476-0053

Email: glen@mtgitright.com
(The first time you use this email address, please call first to validate yours. Otherwise, our SPAM filters will block your email and we will not see it.)

Join us on Facebook: > Click here